Diplomunion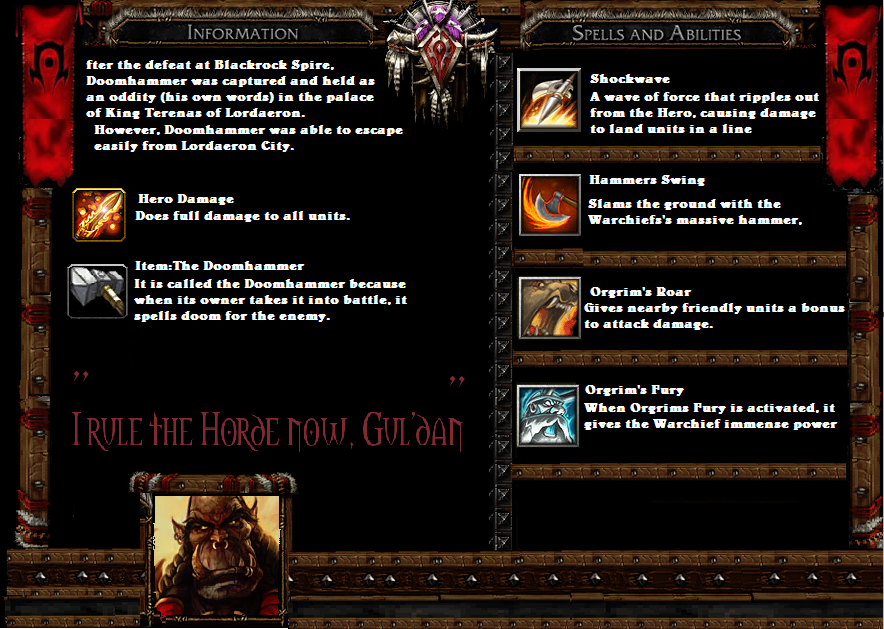 Biography
Early life
;Orgrim of the
Blackrocks
and
Durotan
of the
Frostwolves
originally met whilst secreting away as children from the sleeping tent during the
Kosh'harg
festival in
Nagrand
. The two troublesome youths escaped past their sleep time to spy on the clans' councils, only to be severely disappointed. Deciding instead to spend the rest of the night challenging each other, they soon formed a bond that, while...​
GENERAL CHANGES:
- Most caster upgrades has had their name and icons simplified to match they spell they unlock upon research
- Removed the Phoenix spell off Emperor Bertrand Dubleaux IV
- Further terraining and eyecandy added around the map
- Added a small camp full of invulnerable NPCs. They are not used for anything, they are only named after a few IRL people of mine's WoW characters.
- New item: Draupne. A ring that has a 1% chance to drop off Shadeus Cultists. It grants +5 to all stats and a Transmute ability. Doesn't work on heroes and demi-heroes, naturally.

Player Red
- No new changes
Player Blue
- New quest: Get revenge on Fengrol's corrupted brother. Find clues for his wearabouts, and kill him. By doing so, you will get a foothold within his lair, a handful of Woodsmen, and a Demi-Hero.
- Fengrol's Hunting Idol has had its damage very slightly increased, but reduced the attack speed
- Scruffy now has Wind Walk and...
​
In case your all wondering what Planetside 2 is, its a F
REE TO PLAY MMO FPS
game that you can download on their website
www.planetside2.com
.
The game is divided by three factions,
The Conglomerate
Terran Republic (Diplo's Own)
And the Vanu Sovereignty.
Next Weekend on
March 26-29th
I will try to organize a gathering of Diploers and BOTR dwellers to show our might!
Because most players live across the world we all will...