Diplomunion
The summer is about to get even hotter, as World Domination version 1.4b is now out and packed with new features!
UFOs will now randomly spawn from time to time, roaming around and occasionally abducting units to later place them at random spots on the map. If you should ever succeed in shooting down one of them, your scientists will be able to reverse engineer the wreckage allowing you to produce your own weaponized UFOs. These are unique in that they can attack all unit types, and deal explosive damage which is devastating to infantry.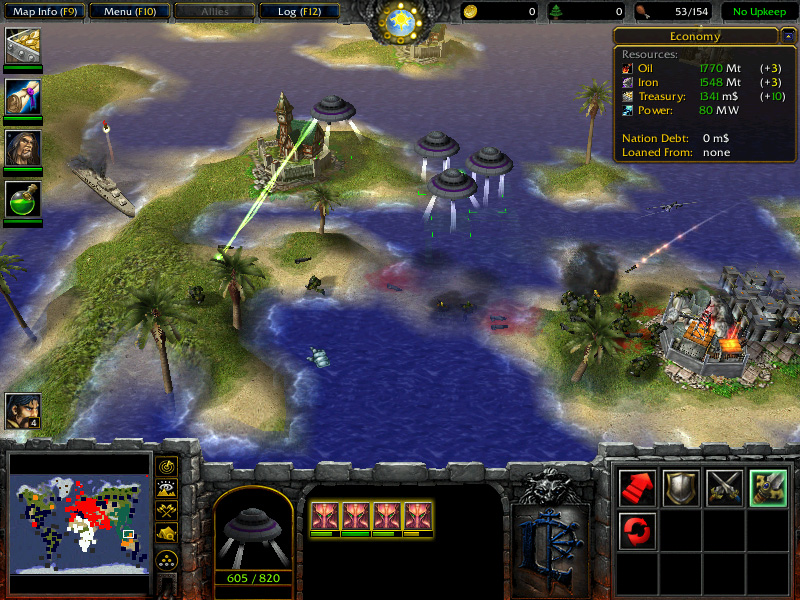 A group of weaponized UFOs in combat.

There is also a new variant of the Heavy Tank: the T-62. It is cheaper and has a higher rate of fire than the Patton, but its lower damage and armor means it will usually lose in an even battle. The T-62 is used by all russian-aligned nations, including China, India, Africa and the Latin...
Map on Epic War:
https://www.epicwar.com/maps/255035/
Right, so the A version had a few small problems related to it, LB didnt get Maiev on Illidan defection, Illidan could only call for the naga before he used his ulti etc. Well thats all fixed now. You also get a retterained Northern Stranglethorn. Man those bridges are annoying to edit.
1.20B:
New:
Retterained a third of Stranglethorn.
Put the Call Naga ability on the event building rather than on Illidan. Expect this for Kaels events too in the future.
New audio for Arthas going to Northrend.
Balance:
Nerfed Galen starting STR by 5
Jaina now only needs to be level 6 to get Kul'Tiras, down from 8.
Jaina now also gains one extra level from that event
Removed 1 Cannon Tower from Duskwood.
Orgrimmar hp down to 3000, from 5000.
Hellfire Citadel hp and attack buffed.
River boats now scale with naval upgrades instead of normal ones.
Ancients of War now train all basic LB units.
Fixes:
...
Apart from a bunch of visual adjustments and a new combat system, 1.0f will feature an expanded Zul'Aman!

So how's is it going to work? First of all, Outer Zul'Aman will act as a buffer for Elves, protecting their eastern lands from the Scourge. Inner Zul'Aman will be unaccessible to anyone but Forsaken. Why?

If any of the rangers obtains freedom and decides to go solo, she will appear in Inner Zul'Aman. She will then be given 10 minutes of relative peace, having to fight the dangers hidden inside. If a Ranger manages to kill Malorakk the Bear Spirit and Akil'zon the Eagle Spirit, the power gained from destroying them will allow her to take over Zul'Aman, granting her access to a few Troll units and a Troll hero: Hexxlord Malacrass or Zul'jin.

Only Vereesa and Alleria will be rewarded with a hero, Sylvanas simply gets to use trolls and unlock the heroes for her sisters as she already has 2 additional heroes as a solo ranger....