Diplomunion
My Azzy Wars style project for SC2. As you can see, very early in development but all of this was done in the last week (planning, learning and making contacts took much longer).
I spent a great deal of time playing Azeroth Wars and Dark Ages of Warcraft and felt it was about damn time I actually created something.
More details when available. What you see is half of Northrend. Just making this post to register interest and potentially recruit talent.
Just me on the project at the moment (besides the people who made the models and dependencies of course), but will be recruiting shortly if there is interest.
Basically the map is meant to be Alliance vs Horde style with fully scripted events, enemy factions such as the Scourge which will automatically attack somewhat intelligently. So rather than having to have players playing every faction in...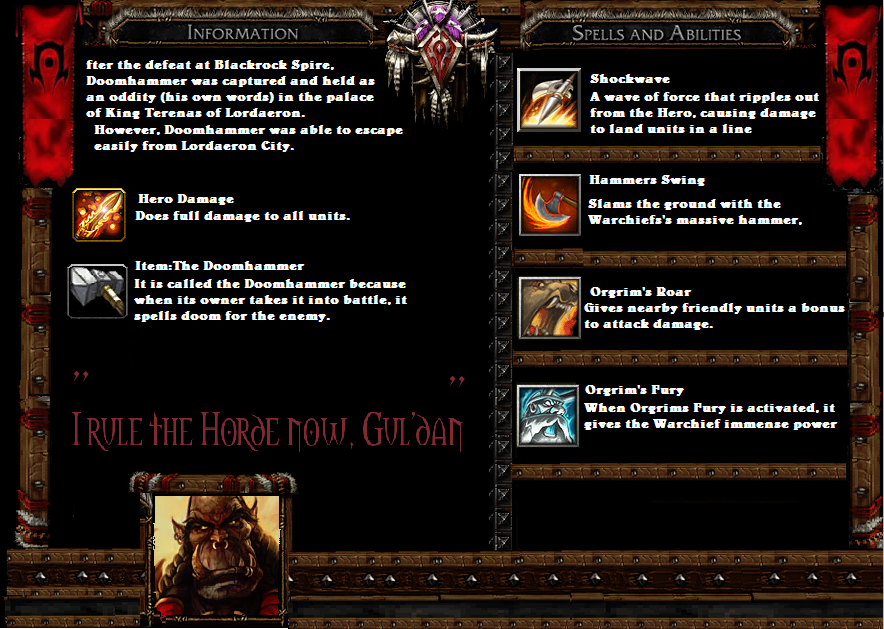 Biography
Early life
;Orgrim of the
Blackrocks
and
Durotan
of the
Frostwolves
originally met whilst secreting away as children from the sleeping tent during the
Kosh'harg
festival in
Nagrand
. The two troublesome youths escaped past their sleep time to spy on the clans' councils, only to be severely disappointed. Deciding instead to spend the rest of the night challenging each other, they soon formed a bond that, while...​
GENERAL CHANGES:
- Most caster upgrades has had their name and icons simplified to match they spell they unlock upon research
- Removed the Phoenix spell off Emperor Bertrand Dubleaux IV
- Further terraining and eyecandy added around the map
- Added a small camp full of invulnerable NPCs. They are not used for anything, they are only named after a few IRL people of mine's WoW characters.
- New item: Draupne. A ring that has a 1% chance to drop off Shadeus Cultists. It grants +5 to all stats and a Transmute ability. Doesn't work on heroes and demi-heroes, naturally.

Player Red
- No new changes
Player Blue
- New quest: Get revenge on Fengrol's corrupted brother. Find clues for his wearabouts, and kill him. By doing so, you will get a foothold within his lair, a handful of Woodsmen, and a Demi-Hero.
- Fengrol's Hunting Idol has had its damage very slightly increased, but reduced the attack speed
- Scruffy now has Wind Walk and...